Family Halloween Costumes: Ye or Ne?
Home » Blog » Halloween's Hottest Trends, Little Ghost & Ghouls Corner , Scary-Good DIY Ideas, Halloween Headlines
November 7, 2017 By Cait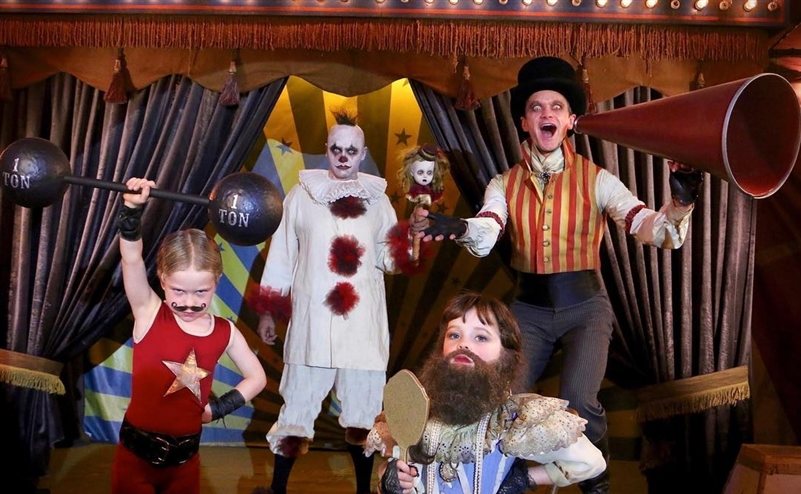 Neil Patrick Harris's Crew Went as "American Horror Story: Freak Show" Circus Characters This Halloween!
Photo by:
Neil Patrick Harris, via Instagram.
Over the years, coordinated family Halloween costumes have become "a big thing" - especially as more and more big A List Celebs dress up with their little ones in coordinating costumes, and the trend has definitely picked up traction over recent Halloween Seasons. Usually, the parents let the children be the "main characters" from a movie, tv show, or other pop culture reference, and the adults dress up in complimentary costumes when they go out trick or treating with their little ones on Halloween.
Here are some of our favorite celeb Family Halloween looks - we'd love to see yours too!
Justin Timberlake, Jessica Biel & Son as Buzz Lightyear, Jessie, and Woody - Oh my gosh this is cute. With their son decked out as Woody from Toy Story, the duo dressed up as Buzz Lightyear and Jessie to accompany their little one trick or treating this year. Absolutely adorable
P!NK & Crew as Pirates - Yarrrrrr, there they go! P!NK and her family dressed up as an adorable gang of swashbucklers this Halloween, and hey - you can't go wrong with pirates, right?
Neil Patrick Harris & David Burke's Clan as Carnival Sideshow Curiosities - This costumed clan is one of our favorites - not only do they have both parents, and both kids involved, but they've also got a stand in for their unborn baby that's soon to join the Harris-Burke clan as characters from "American Horror Story: Freak Show"! Too cute!
Alec & Hilaria Baldwin's Clan as The Gang From Wizard of Oz - With Alec Baldwin starring as the Tin Man, Hilaria as the Good Witch, and the little ones decked out as Dorothy, Scarecrow, and of course, the Lion, this adorable group costume was an absolute hit!
Jessica Alba's Family Went as a Gaggle of Vampires - She had the whole crew in tow as a group of ooky spooky vampires on Halloween night to go trick or treating. An adorable family take on a Halloween Classic!
Did Your Family Do a Group Costume This Halloween? Share Your Pics in the Comments Below!