Ghost Tour of Old Town - ABQ's ORIGINAL Ghost Walk - Since 2001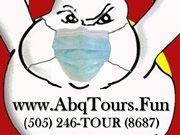 303 Romero St NW
Albuquerque, NM
Legends, folklore, ghost stories and history come to life as you depart on an intriguing excursion through 306 years of haunted history. Old Town was founded in 1706, and for more than three centuries people have lived and died around the Old Town Plaza. The historic buildings and dark alleys conceal the long-forgotten secrets of battles, murders, hangings, and hidden cemeteries.
Professional Tour Guides escort you on a 90-minute, lantern-lit adventure. You will search for the lost souls of early residents, Civil War phantoms, spooks, specters, wandering apparitions and over one dozen other ghosts who have made Old Town their eternal home. Learn the history and basics of Ghost Hunting as you hear the chilling stories of actual events. Old Town is one of the most actively haunted locations in North America. Residents, employees and tourists have all experienced unexplained phenomena. From actual sightings of full apparitions which seem to vanish impossibly into thin air; to disembodied voices heard in empty buildings; even objects moving mysteriously on their own.
Come with an open mind and bring your digital camera. Guests have captured many curious unexplained phenomena in photos taken during the tour.
Moonlight Tours last from 90 minutes to 2 hours
Email Haunt Owner
All photos and videos within this listing are the property of Ghost Tour of Old Town - ABQ's ORIGINAL Ghost Walk - Since 2001
Directions to Old Town: Take I-40 to Rio Grande Blvd Turn SOUTH on Rio Grande Blvd Look for signs directing you to the Historic Old Town Plaza Take a soft left on to Romero Street at the intersection of Rio Grande, Mountain Road and Romero Street NW (look for the statue of a man on a horse) We are located in Plaza Don Luis at 303 Romero Street NW Our Ticket Window is WEST of the historic San Felipe Church, near the Visitor Information Center and the public restrooms Free and paid on street parking is available in Old Town (505) 246-TOUR (8687) 303 Romero St. NW Plaza Don Luis - Space # N-120 Albuquerque, NM 87104 GPS Coordinates: N 35° 5'47.93" W 106°40'15.61"
Email Verified

Amazing Night Tour

We made a tour of the Old Town with our guide Tammy who has been gifted with great knowledge of the Old Town History and is certainly a great story teller. We never saw a ghost, but the way Tammy told us stories about them, we felt we could see one any moment. There is a lot of rich and sordid history packed into Old Town Albuquerque. Anyone who is interested in the history of Old Town Albuquerque, well this is the place for you. We are sure to come back again next time with our kids and friends for more info here.

| | |
| --- | --- |
| Scare Factor: | |
| Fun Factor: | |
| Haunt Value: | |

Posted November 2017

Mystical Experience

The ghost tour we did was beyond awesome! It was super fun with a guide like Charlie. The old town at night is beautiful! Our guide made us stop at each and every landmark, and each one of it had a unique story, and the dim lighting of the old buildings and the quiet streets with the beauty of the full moon created a mystical experience. I loved this place and I am thankful to Charlie for giving us all information.

| | |
| --- | --- |
| Scare Factor: | |
| Fun Factor: | |
| Haunt Value: | |

Posted October 2017

Email Verified

Awesome Tour

One of the most exciting and unique kind of an experience is when you never get to see any ghost but you expect them any minute when you have a guide expert in telling stories about the Old Town. Our Guide Tammy, narrated us all the stories of the Old Town and that is when we get to know that the Old Town is a mystery never told before. It has a lot rich and sordid knowledge in Old Town Albuquerque. I and my husband really enjoyed spending our time here and we will surely refer this place to all of our friends.

| | |
| --- | --- |
| Scare Factor: | |
| Fun Factor: | |
| Haunt Value: | |

Posted October 2017

Email Verified

Ghostly Fun

Lots of ghostly fun! It was my second ghost tour and it was amazing. Charlie had an excellent way of storytelling that indulged us to get into the ghost world. We as a group had witnessed a lot of stuffs, some of them were damn scary and a few of them were scariest of all. But, it was fun and we really enjoyed the walkthrough understanding the history and basics of ghost hunting. Overall, a must try event for anyone who want to experience ghost hunting. Great work guys!!

| | |
| --- | --- |
| Scare Factor: | |
| Fun Factor: | |
| Haunt Value: | |

Posted October 2017

Very Informative Tour

Ghost Tour of the Old Town was beyond awesome and we get to learn a lot about the history of it. I would like to thank our guide Charlie, who was very informative about this place and entertained us a lot. He showed us the importance of each and every landmark and that is when we get to know that each of it had a unique story to say. It looked more of ghost hunting that we did and few things on our way were pretty scary. Thank you for this lovely informative tour. I will recommend this place to all.

| | |
| --- | --- |
| Scare Factor: | |
| Fun Factor: | |
| Haunt Value: | |

Posted October 2017

Email Verified

Amazing Walkthrough

Amazing place to get a knack of horror hearing ghost stories!! We did a private ghost tours and our guide was Julia. It was terrific and thrilling as we were on a trail to hunt the ghost and unexplained phenomenon. The guide was superb in explaining the history of ghosts in the city and it was really an amazing walkthrough in the night. Her inclusion of some of the sightings was phenomenal. Not so expensive admission fee and a new way to get a Halloween experience!

| | |
| --- | --- |
| Scare Factor: | |
| Fun Factor: | |
| Haunt Value: | |

Posted October 2017

Highly Recommended

Top of the line ghost tour! We did the ghost tour yesterday with Charlie. Amazing place to experience the real interactive show and we enjoyed a lot. Lantern-lit adventure for 90 minutes was damn scaring and so many wow moments were there to experience a new side of the haunted houses. Charlie was amazing in explaining the history and basics of ghost hunting. We really lived the moment last night. Highly recommended!!

| | |
| --- | --- |
| Scare Factor: | |
| Fun Factor: | |
| Haunt Value: | |

Posted October 2017

Fun and Scare Tour

I and my wife did Ghost Tour of Old Town and it was very interesting. It was an amazing 90-minute, lantern-lit adventure. We had so much fun hearing the unheard ghost stories. We also learnt about ghosts from the territorial times to current day haunting. Unfortunately, we didn't see a real ghost but it was still fun. I will suggest this picnic spot to all my friends and family.

| | |
| --- | --- |
| Scare Factor: | |
| Fun Factor: | |
| Haunt Value: | |

Posted October 2017

Fun yet Scary

Wow! One of the amazing tours of the lovely Old Town with a guide like Charlie! It was beyond amazing. It was a lantern lit tour which was very informative and little bit scary too. But thank goodness that we never got to see any ghost in real. There were scary and informative stories and the time passed out real fast. I am really desperate to go back again.

| | |
| --- | --- |
| Scare Factor: | |
| Fun Factor: | |
| Haunt Value: | |

Posted October 2017

Awesome fun!

We had a great time. It was fun, spooky and interesting all at the same time. Not really scrary but fun

Posted October 2014

4 out of 5 found this review helpful
All information on this page was submitted to New Mexico Haunted Houses and was believed to be accurate at the time it was posted. Please report any inaccuracies
here
.